Amy and I, along with fellow Team Yarn members Jenn Johnson and Linda Johnson, are walking in the 4th Annual Alissa Haines Stomp Out Suicide Awareness 5K Run/Walk in Wyoming, Minn. on Saturday, Aug. 22. Suicide has reached its icy fingers into our lives, and we want to do something about it.
When we received a box of hats from Team Yarn member Ann Dolina and she told us that she'd knit all these hats in her grief over a friend who had committed suicide this spring, we knew that was more than coincidence.
We knew we needed to donate hats to the event.
On Friday, June 3, Amy and family dropped off hats in Forest Lake to donate for the Stomp Out Suicide silent auction. The organizer was so pleased and grateful.
ABOUT THE STOMP OUT SUICIDE WALK
Founded in Memory
of Alissa M. Haines
October 1, 1996 – December 29, 2011
Stomp Out Suicide was founded on February 5, 2012, by the parents of a beautiful, fun-loving teenage girl. Alissa Marie Haines was lost to suicide on December 29, 2011. She was 15 years old.
The 5K run/walk takes place on Saturday, Aug. 22, 2015, beginning at 10 a.m. (9 a.m. check-in and registration) at
Goodview Park in Wyoming, MN
. The event includes entertainment and activities for the whole family, such as:
DJ music from DJ Sound Productions & Entertainment
Live music from Jacob Champlain and the Blue Jays
A kids' area with face painting, bounce houses, clowns, costumed characters and more
A silent auction and raffle featuring amazing goods and services for adults and children
Food stands provided by Otis Concessions
A balloon release to honor loved ones lost to suicide
A resource fair chocked full of information about suicide awareness and mental health resources from several local organizations
A short keynote speech from John Moe, host of Wits from American Public Media & Mental Health Advocate
Registration
Individuals or teams may register for the event online until 11 pm Sunday, August 16. Registration is $25 for adults and $15 for children 16 and under. Register by August 16 and you're guaranteed a race T-shirt. Shirts will be issued on a first-come, first-served basis for same-day registrations done at the park.
About John Moe, Keynote Speaker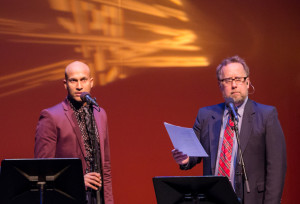 John Moe, the host of Wits from American Public Media, has a long and varied career in public radio as well as comedy. Moe served as host of Marketplace Tech Report and Weekend America, both national programs heard on public radio stations. His reporting and commentary has been heard on All Things Considered, Marketplace, Day to Day, and numerous other public radio programs.
Moe's latest book is Dear Luke, We Need to Talk, Darth. His writing has appeared in numerous humor anthologies, the New York Times Magazine, and McSweeney's, among many other publications.
John has been a lead singer in rock bands, a writer of video games, an editor at Amazon.com, and he once got fired for washing dishes the wrong way.
In 2007, John lost his brother to suicide due to untreated depression. He's
spoken publicly on Twitter
about the importance of seeking help and treatment for depression, in an effort to spread mental health awareness and suicide prevention. In 2012, John went public about living with depression himself in a powerful series of tweets with the hopeful hashtag
#sunlight
. John's passion for reducing the stigma around mental illness aligns perfectly with the mission of Stomp Out Suicide, and we are honored to have him speak at our event.